Boss Beaver's Log Land is an amusement park owned by Boss Beaver.
Information
Boss Beaver's Log Land is only seen in the episode "Amusement Bark." When Timon and Pumbaa arrive at the park, the two argue over what to do: Timon wants to ride the Log Flume and Pumbaa wants to buy souvenirs. While at the amusement park, Timon meets Boss Beaver's son Boy Beaver, who keeps breaking things and getting the meerkat blamed for it.
Activities
The Souvenir Shop
The souvenir shop is a store in Boss Beaver's Log Land. It has many beaver merchandises.
When Timon and Pumbaa get in the store, Timon complains about the "worthless overpriced junk" and Pumbaa gets excited about them. Timon then meets Boy Beaver. Boy Beaver drops a sign, which Timon catches, but then the kid hits Timon's toe with a hammer, causing the meerkat to let the sign go and accidentally break all the merchandises.
Hot Log on a Stick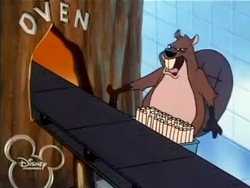 Hot Log on a Stick is a local restaurant where the employees have to put logs on sticks. When a log comes out of the oven, you put a stick on it, cover it with sauce, wrap it, and then put it on a log tray.
While Timon and Pumbaa are doing the job, Boy Beaver shows up and turns the dial that dispenses the manufactured logs to the highest setting, making the job harder and harder. Timon sees Boy Beaver, who runs away, and then tries to turn the dial to how it was before, but it's stuck. The machine explodes, leaving the business in ruins. Pumbaa and Boss Beaver blame Timon for it.
The Monorail
A monorail is a rail-based transportation system based on a single rail, which acts as its sole support and its guideway. The term is also used variously to describe the beam of the system, or the vehicles traveling on such a beam or track. The transportation system is often referred to as a railway.[1]
While Timon and Pumbaa are on the monorail, Timon tells Pumbaa that the previous damages were not his fault and he has to believe him. Pumbaa tells Timon that he's the only one who sees Boy Beaver. Boy Beaver then shows up in various places in the monorail and Timon tries to catch the kid. Pumbaa gets distracted and ends up breaking the monorail.
The Log Flume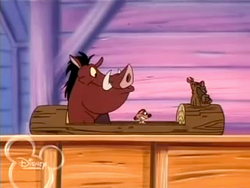 The Log Flume is a ride at the amusement park. It is like a roller coaster, except that it has water instead of tracks.
Boss Beaver makes Timon and Pumbaa take his son to ride the Log Flume. When Timon and Pumbaa are on the Log Flume, Boy Beaver messes with the controls. He gets caught by his father, making him realize that it was his son's fault all along and not Timon's. The Log Flume gets ruined.
Timon & Pumbaa's Log Land
After the Log Flume breaks, Timon decides that he and Pumbaa buy the park. "Boss Beaver's Log Land" becomes "Timon & Pumbaa's Log Land." Boss Beaver and his son are now working at "Hot Log on a Stick."
References
Gallery
v - e - d
Episodes
Timon & Pumbaa
Season One: "Boara Boara" | "Saskatchewan Catch" | "Kenya Be My Friend?" | "Good Mousekeeping" | "Brazil Nuts" | "South Sea Sick/The Lion Sleeps Tonight" | "Never Everglades" | "Cooked Goose" | "Yukon Con" | "Doubt of Africa" | "How to Beat the High Costa Rica" | "Swiss Missed" | "Russia Hour" | "You Ghana Join the Club" | "Uganda Be an Elephant" | "To Kilimanjaro Bird" | "Rocky Mountain Lie" | "Amazon Quiver" | "French Fried" | "Big Top Breakfast" | "Madagascar About You" | "Truth or Zaire/Yummy, Yummy, Yummy" | "Mojave Desserted" | "Beauty and the Wildebeest" | "Don't Break the China" | "Can't Take a Yolk" | "Stand by Me" | "The Pain in Spain" | "Frantic Atlantic" | "Unlucky in Lesotho" | "Rafiki's Apprentice" | "Tanzania Zany" | "Guatemala Malarkey" | "Mombasa-In-Law" | "TV Dinner" | "Back Out in the Outback" | "Gabon with the Wind" | "Timon's Time Togo" | "The Law of the Jungle" | "Manhattan Mishap" | "Paraguay Parable" | "Be More Pacific" | "Going Uruguay" | "Let's Serengeti Out of Here" | "Congo on Like This" | "Okay Bayou?" | "Shake Your Djibouti" | "Yosemite Remedy" | "The Sky is Calling" | "Mozam-Beaked" | "Ocean Commotion"
Season Two: "Palm Beached" | "Jamaica Mistake?" | "Oregon Astray" | "New Guinea Pig" | "Isle of Manhood" | "Puttin' on the Brits" | "Klondike Con" | "Isle Find Out" | "Beetle Romania" | "Rumble in the Jungle" | "Wide Awake in Wonderland" | "Zazu's Off-by-One Day" | "Animal Barn" | "Roach Hotel" | "Africa-Dabra!" | "I Don't Bolivia" | "Shopping Mauled" | "Library Brouhaha" | "Catch Me if You Kenya" | "Scent of the South" | "Monster Massachusetts" | "Handle with Caribbean" | "Forbidden Pumbaa" | "Washington Applesauce" | "Alcatraz Mataz" | "Oahu Wahoo" | "I Think I Canada" | "Zazu's Off Day Off" | "Beast of Eden" | "Sense & Senegambia" | "Timon on the Range" | "The Man from J.U.N.G.L.E." | "Maine-Iacs" | "Fiji-Fi-Fo-Fum" | "Rome Alone" | "Amusement Bark" | "Once Upon a Timon" | "Home is Where the Hog Is" | "Beethoven's Whiff" | "Bumble in the Jungle" | "Mind Over Matterhorn"
Season Three: "Whiff" | "To Be Bee or Not to Be Bee" | "Luck Be a Meerkat" | "Just When You Thought You'd Cuisine it All" | "Lemonade Stand Off" | "Big Jungle Game" | "Boo Hoo Bouquet" | "So Sumo Me" | "Now Museum, Now You Don't" | "Visiting Pig-nitaries" | "The Truth About Kats and Hogs" | "Escape from Newark" | "Truth Be Told" | "Circus Jerks" | "Nest Best Thing" | "Super Hog-O" | "Don't Have the Vegas Idea" | "Hot Enough for Ya?" | "Werehog of London" | "Bigfoot, Littlebrain" | "Astro-Nots" | "Robin Hoodwinked" | "Seregenti Western" | "All Pets are Off" | "Two for the Zoo" | "The Swine in the Stone" | "You May Have Already Won Six Million Bakra" | "My Meteor, My Friend" | "Jungle Slickers" | "Don't Wake the Neighbear" | "Recipe for Disaster" | "Going Over-Boar'd" | "Ivy Beleaguered" | "Broadway Bound & Gagged" | "Steel Hog" | "Dealer's Choice Cut" | "Space Ham" | "You Bet Your Tukhus" | "No-Good Samaritan" | "Living in De Nile" | "One Tough Bug" | "Pirates of Pumbzance" | "Miss Perfect" | "Hakuna Matata U." | "Pig-Malion" | "Why No Rhino" | "War Hogs" | "The Big No Sleep" | "Common Scents" | "Mister Twister" | "Don't Be Elfish" | "Lights, Camera, Traction" | "The Running of the Bullies" | "Special Defects" | "Wishy Washy" | "Ice Escapades" | "Guru-Some" | "Jailhouse Shock" | "Nearly Departed" | "Early Bird Watchers" | "The Spy's the Limit" | "Ready, Aim, Fire" | "Timoncchio" | "Ghost Boosters" | "Stay Away from my Honey!" | "Sitting Pretty Awful" | "He's a Bad, Bad, Bad Sport" | "Dapper Duck Burgers" | "It Runs Good" | "Hot Air Buffoons" | "Timon in Love" | "Kahuna Potato" | "Mook Island" | "Cliphangers"
The Lion Guard
Season One: "Never Judge a Hyena by its Spots" | "The Rise of Makuu" | "Bunga the Wise" | "Can't Wait to be Queen" | "Eye of the Beholder" | "The Kupatana Celebration" | "Fuli's New Family" | "The Search for Utamu" | "Follow That Hippo!" | "Call of the Drongo" | "Paintings and Predictions" | "The Mbali Fields Migration" | "Bunga and the King" | "The Imaginary Okapi" | "Too Many Termites" | "The Trouble With Galagos" | "Janja's New Crew" | "Baboons!" | "Beware the Zimwi" | "Lions of the Outlands" | "Never Roar Again" | "The Lost Gorillas" | "The Trail to Udugu" | "Ono's Idol"
Ad blocker interference detected!
Wikia is a free-to-use site that makes money from advertising. We have a modified experience for viewers using ad blockers

Wikia is not accessible if you've made further modifications. Remove the custom ad blocker rule(s) and the page will load as expected.