Boone Wiseman is Penn Zero's friend, part-time side kick and student. Boone is the brains of the group and the one with the common sense, despite it being a bit warped to normal reason. His parents are also part-time heroes. He use to have a severe form of Hydrophobia until he realized that he can swim and fear of speaking to audiences until is was suggested that he imagine the audience in their underpants. Boone is easily distracted with other tasks, very lazy and unreliable but in the end he can get the job done, for example in  episode "Totally into Your Body", he accidentally took Penn's space on the teleporter and became the mission hero.  He was able to save the day by studying the books in the sub and save Penn Zero from a deadly virus.
Relationships
Trivia
As revealed in "North Pole Down", Boone takes a drama class.
In "Chicken or Fish?", it's revealed that he is afraid of water, though he gets over it in the same episode.
As revealed in "Defending the Earth", he is afraid of speaking in public.
He loves making art of Pigoilet, making a painting of it in "Cereal Criminals" and creating a clay figure and magic carriage (while in Musical Fairytale World) in "The Princess Most Fair".
Boone's musical taste includes classic rock and metal, though he enjoys anything with soul.[3]
In "Totally into Your Body", he takes on a mission as the hero due to an accident on the zap platform.
In "Flurgle Burgle", Sashi points out that Boone, like Penn, has parents who are part-time heroes, though unlike Penn's parents, they are not trapped in the Most Dangerous World Imaginable.
In "Save the Worlds", Boone can be seen singing the song with the same name while in the Musical Fairy Tale World.
Gallery
v - e - d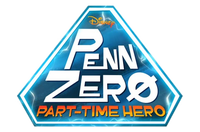 Locations
Middleburg • Middleburg Central High • The Odyssey • Fish Stick on a Stick • North Pole • Knight World • Superhero World • Arabian World • Plush Toy World • Clown World • Dinosaur Cowboy World • Cereal World • Old English World • Giant Monster World • Zombie World • Space World • Ocean World • Color World • Musical Fairy Tale World • Caveman Spy World • Future Barbarian World • Ultrahyperball World • Demon World • Alien World • Galaxy World • Temple World • Dragon World • Gothic Mystery World • Plant World • Animal Barbarian World • Toy World • Outer Space Court World • Robot World • Pirate World • Fairymania World • Steampunk World • Ball World • Ghost World • Rock, Paper, Scissor World • Beast World • Anime World • Sitcom World • Nothingness • Most Dangerous World Imaginable • Least Dangerous World Imaginable
Objects
Multi-Universe Hologram Uplink • Multi-Universe Transprojector • Pigoilet • The QPC Unit • Vortex Tops • Specs