Ad blocker interference detected!
Wikia is a free-to-use site that makes money from advertising. We have a modified experience for viewers using ad blockers

Wikia is not accessible if you've made further modifications. Remove the custom ad blocker rule(s) and the page will load as expected.
Boone is Penn Zero's friend, part-time side kick and student. Boone is the brains of the group and the one with the common sense, despite it being a bit warped to normal reason. His parents are also part-time heroes. He use to have a severe form of Hydrophobia until he realized that he can swim and fear of speaking to audiences until is was suggested that he imagine the audience in their underpants. Boone is easily distracted with other tasks, very lazy and unreliable but in the end he can get the job done, for example in  episode "Totally Into Your Body", he accidentally took Penn's space on the teleporter and became the mission hero.  He was able to save the day by studying the books in the sub and save Penn Zero from a deadly virus.
He is voiced by Adam DeVine.
Gallery
v - e - d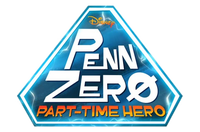 Locations
Middleburg | Middleburg Central High | The Odyssey | Fish Stick on a Stick | Knight World | North Pole | Superhero World | Arabian World | Plush Toy World | Chuckle City | Big Butte | Space World | Ocean World | Musical Fairy Tale World | Caveman Spy World | Alien World | Dragon Flight School | Plantywood | Most Dangerous World Imaginable | Least Dangerous World Imaginable
Objects
Multi-Universe Hologram Uplink | Multi-Universe Transprojector | Pigoilet | The QPC Unit | Vortex Tops | Specs