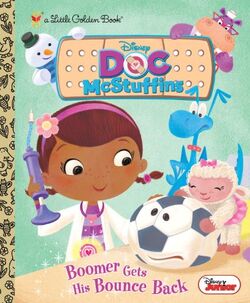 Boomer Gets His Bounce Back is a 2013 Little Golden Book based on Doc McStuffins.
Description
Doc McStuffins helps a ball named Boomer in this Little Golden Book retelling of an episode from the popular Disney Junior series. Kids ages 2–5 will love finding out how Doc gets Boomer bouncing again. And they'll relate to Boomer's fear of needles—and learn how to be brave at their next doctor's visit.
Details
Age Range: 2 - 5 years
Hardcover: 24 pages
Publisher: Golden/Disney (July 23, 2013)
Language: English
ISBN-10: 0736431438
ISBN-13: 978-0736431439
Ad blocker interference detected!
Wikia is a free-to-use site that makes money from advertising. We have a modified experience for viewers using ad blockers

Wikia is not accessible if you've made further modifications. Remove the custom ad blocker rule(s) and the page will load as expected.