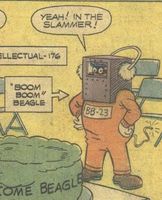 Boom Boom Beagle
is one of three explosive-expert
Beagle Boys
. His first appearance was in
September 1
,
1976
, in the
Super Goof
story "Super Do-Gooder" by Roger Armstrong.
He wears coveralls (with a lighted fuse) and a heavy armoured squared metal helmet plus earmuffs. His prison number is BB-23.
Trivia
Ad blocker interference detected!
Wikia is a free-to-use site that makes money from advertising. We have a modified experience for viewers using ad blockers

Wikia is not accessible if you've made further modifications. Remove the custom ad blocker rule(s) and the page will load as expected.