Ad blocker interference detected!
Wikia is a free-to-use site that makes money from advertising. We have a modified experience for viewers using ad blockers

Wikia is not accessible if you've made further modifications. Remove the custom ad blocker rule(s) and the page will load as expected.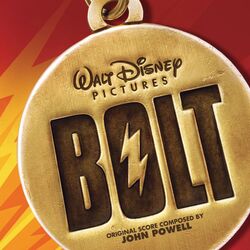 Bolt (Original Motion Picture Score)
is the soundtrack for the animated film
Bolt
. The soundtrack was released on November 18,
2008
.
The score to Bolt was composed by John Powell who also composed the music for Dreamworks How To Train Your Dragon and How To Train Your Dragon 2. The soundtrack featured the film's score and two original songs: "I Thought I Lost You" by Miley Cyrus and John Travolta (nominated for a Golden Globe Award for Best Original Song on 2009) as well as "Barking at the Moon" by Jenny Lewis.
Tracks
"I Thought I Lost You" - Miley Cyrus, John Travolta - 3:36
"Barking at the Moon" - Jenny Lewis - 3:17
"Meet Bolt" - 1:49
"Bolt Transforms" - 1:00
"Scooter Chase" - 2:29
"New York" - 1:44
"Meet Mittens" - 1:25
"The RV Park" - 2:14
"A Fast Train" - 2:38
"Where Were You on St. Rhino's Day?" - 1:58
"Sing-Along Rhino" - 0:42
"Saving Mittens" - 1:02
"House on Wheels" - 3:07
"Las Vegas" - 2:01
"A Friend in Need" - 1:13
"Rescuing Penny" - 3:09
"A Real Life Superbark" - 0:46
"Unbelievable TV" - 1:20
"Home at Last/Barking at the Moon (Reprise)"
Jenny Lewis - 1:29
Details
Audio CD (November 18, 2008)
Original Release Date: 2008
Number of Discs: 1
Format: Soundtrack
Label: Walt Disney Records
ASIN: B001EQUETG