"Control, we were the first to go through the heart, lungs and brain!"
Body Wars was a motion simulator ride in the Wonders of Life pavilion at Epcot. The premise of the attraction had guests shrunk to survey a mission carried out inside a human body. The ride film was directed by Leonard Nimoy, and utilizes the ATLAS simulation technology used in Star Tours.
Attraction Description
Queue
Guests enter the queue as "observation team members" recruited by MET and are told by overhead announcements that they must pass the "level 1 and level 2 dermatopic purification screens" to enter the body-probe vehicle. In the queue and loading area, announcements are made about details of the four bays.
Boarding
Dr. Cynthia Lair has volunteered to be miniaturized to observe how white-blood cells attack a splinter. The guests are told they will board the Bravo 229 probe vehicle with Captain Braddock piloting the ship to meet up with Dr. Lair and bring her out. Guests learn that their "LGS 2050"-type probe vehicle weighs approximately 26 tons, but once miniaturized, weighs less than a drop of water.
Ride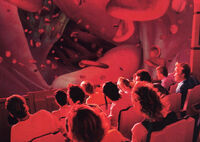 The gustes' vehicle, Bravo 229, moves from the loading bay to the miniaturization chamber, where technicians focus a "particle reducer" on the ship. Their ship and crew mates are miniaturized and sent under the subject's skin. White blood cells are seen on their way to destroy the splinter. 
The guests arrive at the splinter, meeting with Dr. Lair as she begins to take a cell count when she is accidentally pulled into a capillary. Braddock follows her into the vein, entering an unauthorized area. Braddock steers the vessel past the heart and into the right ventricle. The guests enter the lungs where Dr. Lair is being attacked by a white blood cell. Braddock uses his lasers to free her and have her come aboard. 
By now, the ship is very low on power. Dr. Lair suggests that they use the brain's energy to recharge the ship. Passing the heart's left atrium, the ship goes through the artery to get to the brain. A neuron contacts the ship, allowing it to regain power and de-miniaturize outside of the body. The team members are congratulated upon arrival for a successful rescue as guests exit the craft.
Cast
Tim Matheson as Captain Braddock
Dakin Matthews as Mission Commander
Elisabeth Shue as Dr. Cynthia Lair
| | |
| --- | --- |
| | This page uses content from the English Wikipedia. The article or pieces of the original article was at Body Wars. The list of authors can be seen in the page history. As with Disney Wiki, the text of Wikipedia is available under the GNU Free Documentation License. |
Ad blocker interference detected!
Wikia is a free-to-use site that makes money from advertising. We have a modified experience for viewers using ad blockers

Wikia is not accessible if you've made further modifications. Remove the custom ad blocker rule(s) and the page will load as expected.