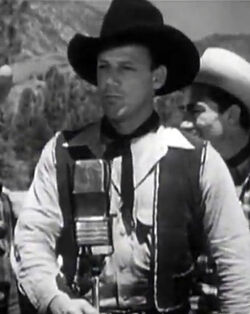 Bob Nolan (April 13, 1908 - June 16, 1980) was a Canadian-born American singer, songwriter, and actor. His only Disney role was himself, singer and narrator in the "Pecos Bill" segment of Melody Time. His song "Pecos Bill" was used for the Golden Horseshoe Saloon and his songs "Pecos Bill", "Skyball Paint" and "Tumbling Tumbleweeds" were used for a few episodes of The Muppet Show.
Gallery
Ad blocker interference detected!
Wikia is a free-to-use site that makes money from advertising. We have a modified experience for viewers using ad blockers

Wikia is not accessible if you've made further modifications. Remove the custom ad blocker rule(s) and the page will load as expected.