Blue Ribbon Bakery

Disneyland
Land
Main Street, U.S.A.
Designer
WED Enterprises
Theme
Turn of the century
Attraction type
Restaurant
Hours
11:30am-12:30am
Sun.
11:30am-11:30pm
Opening date
April 6, 1990
Closing date
December 23, 2011
Hosted by
Nestle
Replaced
Sunkist Citrus House & Carnation Cafe Ice Cream Parlor
Replaced by
Carnation Cafe
Blue Ribbon Bakery
 is a counter-service, turn-of-the-century 
Main Street
 style bakery known for its treats and multiple coffees. The restaurant is located at 
Disneyland
 in 
Anaheim, California
. Since the bakery has no seating, no reservations are available at Blue Ribbon Bakery. The restaurant is located between the Penny Arcade and 
Carnation Cafe
.
History
The Blue Ribbon Bakery first opened its doors to the Disneyland public on April 6, 1990. After Sunkist Citrus House was removed in 1990, the Blue Ribbon Bakery replaced its spot next to the arcade.
In 1997, however, Blue Ribbon Bakery was relocated to the original location of the Carnation Ice Cream Parlor. When Nestle acquired the Carnation Company in 1985, Nestle chose to phase out the Carnation Ice Cream brand in favour of their other brands, and the Gibson Girl Ice Cream Parlor replaced the spot next to the Penny Arcade.
Blue Ribbon Bakery shuts its doors permanently on December 31, 2011.  With the construction of the Jolly Holiday Bakery Cafe in 2012, Disneyland did not need more than one bakery, and Blue Ribbon Bakery was removed, restoring the Carnation Cafe to its original destination
.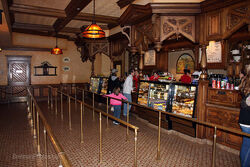 Menu
Food Items
Smoked Ham Sandwich
Turkey Sandwich
Three Cheese Vegetable Medley Sandwich
Whole Fruit
Non-fat Vanilla Yoghurt Parfait
Kid's Turkey Rap
Pastries:
Soundsational Cupcake
Cinnamon Twist
Chocolate Croissant
Croissant
Pecan Sticky Bun
Really Big Cinnamon Roll
Matterhorn Macaroon
Mickey Crispy Treat
Biscotti
Muffins:
Blueberry Muffin
Banana Nut Muffin
Chocolate Chocolate Macadamia Nut cookie
Seasonal Muffin
Cookies
Mickey Cookie
Oatmeal Raisin Cookie
Sugar Cookie
Chocolate Chip Cookies
Beverages
Espresso single/double
Cappuccino
Cafe Latte (served hot or ice)
Cafe Mocha (served hot or cold)
Blended Mocha
Caramel Mochitto
White Chocolate Mocha
Orange
Fresh Brewed Coffee
Coffee (served hot or cold, regular or decaf)
Gallery
Links
Sources