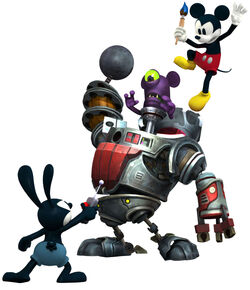 Blotworx
are curious hybrids of
Blotlings
and
Beetleworx
who appear in
Epic Mickey 2: The Power of Two
. They were created by the Mad Doctor initially to serve as a new army to get revenge, but they were deemed unpredictable and he spread them throughout Wasteland. They are piloted by 
Spatters
forced to do so. They come in three types: Blockers, Rockers and Shockers, though the biggest the Mad Doctor ever did build was the
Blotworx Dragon
.
Trivia
The Blockers closely resemble V.I.N.CENT from the 1979 film The Black Hole.
The Blotworx are defeated by when Oswald zaps one with electricity a blotling will come out look around. While he is looking around Mickey can spray paint or thinner him like he would do with a regular Blotling which will make him friendly if Mickey and Oswald continue this pattern the blotling inside will become friendly and the Blotworx will help you and if you use thinner the Blotworx will break down.
Shockers are inspired by the Disney movie Atlantis: The Lost Empire.
Gallery
External link
Ad blocker interference detected!
Wikia is a free-to-use site that makes money from advertising. We have a modified experience for viewers using ad blockers

Wikia is not accessible if you've made further modifications. Remove the custom ad blocker rule(s) and the page will load as expected.