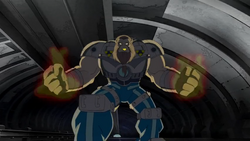 Blastaar is a alien from the Negative Zone. He is part of The Leaders army. He came to earth several times only to be sent back to the Negative Zone.
First time he appeared in a tunnel and took on the Agents of S.M.A.S.H., but was defeated when Iron Man appeared to help them out. The next time he attacked Hoover Dam, where he used a special snake from the Negative Zone to poison most of the Agents of S.M.A.S.H. except Hulk. Again he was defeated and escaped back to the Negative Zone.
Blastaar was created by Stan Lee and Jack Kirby .
Ad blocker interference detected!
Wikia is a free-to-use site that makes money from advertising. We have a modified experience for viewers using ad blockers

Wikia is not accessible if you've made further modifications. Remove the custom ad blocker rule(s) and the page will load as expected.