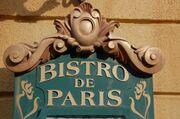 Bistro de Paris
is a restaurant in
Epcot
theme park features a focused wine list and inventive twists on traditional French dinners.
The upscale Bistro de Paris restaurant is located upstairs—one flight above the other gourmet French restaurant in the France Pavilion, Les Chefs de France. These two restaurants, along with the Boulangerie Patisserie pastry shop, share the talents of a trio of French chefs.
The formal decor in Bistro de Paris captures the romance and elegance from turn-of-the-20th century Paris. Brass sconces, milk-glass chandeliers and leaded glass adorn this quiet bistro.
Ad blocker interference detected!
Wikia is a free-to-use site that makes money from advertising. We have a modified experience for viewers using ad blockers

Wikia is not accessible if you've made further modifications. Remove the custom ad blocker rule(s) and the page will load as expected.