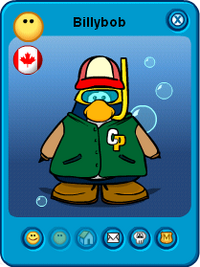 Lane Merrifield
, better known by his screen name
Billybob
, was a well-known
Club Penguin
moderator
who often posted news on the official Club Penguin
blog
.
Some thought that Lane Merrifield is rsnail's name, and that Billybob was the founder of Club Penguin. His catchphrase was "Waddle On!", as seen on almost all of his blog posts. He is a retired mod as of October 2012.
Gallery
Ad blocker interference detected!
Wikia is a free-to-use site that makes money from advertising. We have a modified experience for viewers using ad blockers

Wikia is not accessible if you've made further modifications. Remove the custom ad blocker rule(s) and the page will load as expected.