Ad blocker interference detected!
Wikia is a free-to-use site that makes money from advertising. We have a modified experience for viewers using ad blockers

Wikia is not accessible if you've made further modifications. Remove the custom ad blocker rule(s) and the page will load as expected.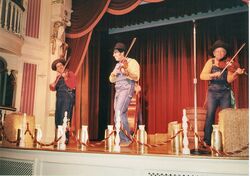 Billy Hill and the Hillbillies are a musical/variety group at Disneyland in Anaheim, California. The group performs a bluegrass country-music-centered show along with classic rock and rap (performed in a country and bluegrass style). They have released some of their music on CDs.
The group had four original members, all using the stage name of Billy Hill, who performed from August 5, 1992 until November 1994. The original members are:
Kirk Wall (master of ceremonies and sometime-Elvis impersonator), guitar and fiddle
Mario Hildago, banjo
Dennis Fetchet, fiddle
John Marshall (founder), bass
Mario was later replaced before the opening inside the Golden Horseshoe Saloon on December 18, 1994 by:
Evan Marshall left the band in 2003.
Today, Billy Hill and the Hillbillies perform 5 days a week inside the Golden Horseshoe as two different teams; they no longer perform on Tuesdays and Wednesdays: [1]
Prior to February 3, 2009, Billy Hill and the Hillbillies were performing 7 days a week inside the Golden Horseshoe Saloon as three different teams: [2]
On November 6, 2013, a press release On the Disney Parks official Blog announced that Billy Hill and the Hillbillies would be retiring as of January 6, 2014. [3]
A group called "Save The Billys" has started a petition and Facebook event in an attempt to persuade Disney to change its mind on retiring the show. Anyone interested in signing the petition or following the group for updates is asked to visit the official fan page or the official Facebook event "Save The Billys". Links are posted below and at both web locations. Updates are provided to all Facebook event members when applicable.
Blue Team
(Sunday, Monday)
Gold Team
(Saturday, Tuesday, Wednesday)
Green Team
(Thursday, Friday)

Rick Storey, banjo and guitar
Kirk Wall, guitar and fiddle
Anders Swanson, bass and fiddle
Dennis Fetchet, fiddle and mandolin

Duane Michaels, mandolin and fiddle
Kirk Wall
Dennis Fetchet
John Marshall, bass

John David, guitar and banjo
John Marshall
Duane Michaels
John Eaden, lead and guitar
Locations
Critter Country from 1986 until 1990: The original home of Billy and the Hillbillies.
Disneyland's Golden Horseshoe Saloon from 1992 to June 17, 2012. (scheduled)
Disneyland's Big Thunder Ranch: 1999-2000 while the Golden Horseshoe was occupied by the Woody's Roundup show based on Disney and Pixar's Toy Story 2.
Disneyland's Big Thunder Ranch: June 18, 2012 to January 6, 2014: The last home of the act. (scheduled)
References
External links
| | |
| --- | --- |
| | This page uses content from the English Wikipedia. The article or pieces of the original article was at Billy Hill and the Hillbillies. The list of authors can be seen in the page history. As with Disney Wiki, the text of Wikipedia is available under the GNU Free Documentation License. |