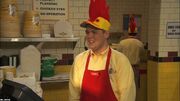 Billy "Gravy" Graves
is a minor character of
Good Luck Charlie. He is a laid back worker at Kwikki Chikki. He is good friends of PJ.
Personality
Gravy is seem to be lazy and a slob. He leaves his room a mess doesn't like to wear pants at home. This drives Amy crazy.
Episode Appearance
Season Two
Bye Bye Video Queen Diary
Termite Queen
Season Four
Ad blocker interference detected!
Wikia is a free-to-use site that makes money from advertising. We have a modified experience for viewers using ad blockers

Wikia is not accessible if you've made further modifications. Remove the custom ad blocker rule(s) and the page will load as expected.