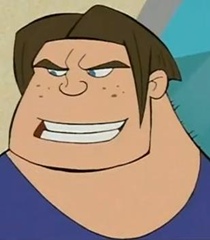 Big Mike[1] is a minor character on the show Kim Possible. He was voiced by Brad Garrett.[2][3]
History
He is a regular in detention at Middleton High School. He appears to get along well with his other detention mates, Vinnie and Junior
Big Mike doesn't speak much. Until he helped Kim Possible with Shego he did little more than growl or speak in single words.
Big Mike is a very sensitive and loyal person. He whimpered when it looked like Kim was going to get blown up and sat on Shego when she tried to stop Ron Stoppable from removing the nanotick.
He also appears to have befriended the cheerleaders as he was seen socializing with Tara and Hope during a school dance.
Appearances
Trivia
Most of Mike's appearances do not show above his shoulders, so his face was only seen twice.
Big Mike appears to be afraid of rodents, as he jumped onto his chair and screamed when "escaped mutant vermin" Rufus infiltrated detention to spring Kim.
References
Ad blocker interference detected!
Wikia is a free-to-use site that makes money from advertising. We have a modified experience for viewers using ad blockers

Wikia is not accessible if you've made further modifications. Remove the custom ad blocker rule(s) and the page will load as expected.