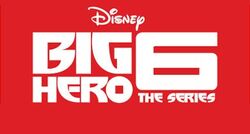 The following is a list of episodes of Big Hero 6: The Series, listed in the order they originally aired.
The series will premiere in early 2018[1] on Disney XD while the series pilot movie, "Baymax Returns" premiered on November 20, 2017. The series takes take place after the events of Big Hero 6.[2] On March 14, 2017, the series was renewed for a second season.[3]
Series Overview
Season
Episodes
Originally aired
Season premiere
Season finale
Shorts
5
January 8, 2018
TBA
1
21[4]
November 20, 2017
TBA
2[3]
TBA
TBA
TBA
Shorts
Season One (2017-2018)
No. in
Series
No. in
Season
Title
Original Airdate
Production
Code
01
01
"Baymax Returns"
November 20, 2017
104
Shortly following the defeat of Callaghan and Hiro's first day at San Fransokyo Institute of Technology, Hiro discovers Baymax's personality chip and proceeds to rebuild his skeleton. Meanwhile, Fred tries to convince the reluctant group to return to crime fighting as the superhero team Big Hero 6. Elsewhere, Yama is hired by the mysterious Obake to steal an unusual paperweight from Professor Granville, the new dean at SFIT and Hiro's professor. Hiro rushes the rebuilding process and the skeleton escapes and is captured by Yama and his crew. Yama pressures Hiro to retrieve the paperweight in exchange for the skeleton. With Fred's help they get it, but Yama double crosses them. Wasabi, Gogo and Honey Lemon arrive and save them and make off with the skeleton and paperweight, but meanwhile Yama managed to create duplicates of the skeleton and sends them out to attack the city. They also steal the paperweight which is revealed to have powerful magnetic energy that affects electric appliances including a train carrying Aunt Cass. The Big Hero 6 stop the train and Hiro tosses the paperweight into the sky where it safely explodes. The next day, Granville gives Hiro Tadashi's old lab, while the villain Obake contemplates his next move.
02
02
"Fred's Bro-Trillion"
March 1, 2018
TBA
When super-villain Baron Von Steamer crashes Fred's Bro-Tillion, Big Hero 6 springs into action.
References