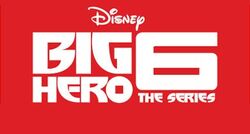 The following is a list of episodes of Big Hero 6: The Series, listed in the order they originally aired.
It will premiere in summer 2018[1] on Disney XD, while the pilot movie, "Baymax Returns", premiered on November 20, 2017. The series takes take place after the events of Big Hero 6.[2] On March 14, 2017, the series was renewed for a second season.[3]
Series Overview
Season
Episodes
Originally aired
Season premiere
Season finale
Shorts
6
January 8, 2018
2018
1
21[4]
November 20, 2017
TBA
2[3]
TBA
TBA
TBA
Shorts
Title
Original Airdate
"Baymax and Honey Lemon"
January 8, 2018
Honey Lemon is working on her tennis skills when she offers to teach Baymax how to play.
"Baymax and Mochi"
January 13, 2018
Baymax is Mochi the cat's new cat sitter!
"Baymax and Fred"
January 27, 2018
Fred tries to help Baymax decide on a new superhero secret alter ego. Will he be a firefighter, or a clown?
"Baymax and Go Go"
February 17, 2018
Go Go decides to teach Baymax how to roller-skate like a pro.
"Baymax and Hiro"
2018
"Baymax and Wasabi"
2018
Season One (2017-2018)
No. in
Series
No. in
Season
Title
Original Airdate
Production
Code
01
01
"Baymax Returns"
November 20, 2017
420B-104
Shortly following the defeat of Callaghan and Hiro's first day at San Fransokyo Institute of Technology, Hiro discovers Baymax's personality chip and proceeds to rebuild his skeleton. Meanwhile, Fred tries to convince the reluctant group to return to crime fighting as the superhero team Big Hero 6. Elsewhere, Yama is hired by the mysterious Obake to steal an unusual paperweight from Professor Granville, the new dean at SFIT and Hiro's professor. Hiro rushes the rebuilding process and the skeleton escapes and is captured by Yama and his crew. Yama pressures Hiro to retrieve the paperweight in exchange for the skeleton. With Fred's help they get it, but Yama double crosses them. Wasabi, Gogo and Honey Lemon arrive and save them and make off with the skeleton and paperweight, but meanwhile Yama managed to create duplicates of the skeleton and sends them out to attack the city. They also steal the paperweight which is revealed to have powerful magnetic energy that affects electric appliances including a train carrying Aunt Cass. The Big Hero 6 stop the train and Hiro tosses the paperweight into the sky where it safely explodes. The next day, Granville gives Hiro Tadashi's old lab, while the villain Obake contemplates his next move.
TBA
TBA
"Fred's Bro-Tillion"
TBA
TBA
When super-villain Baron Von Steamer crashes Fred's Bro-Tillion, Big Hero 6 springs into action.
TBA
TBA
"Big Roommates"
TBA
TBA
A purse thief gets more than he bargained for when he steals Honey Lemon's chem-lab purse and it turns him into a monster.
TBA
TBA
"Issue 188"
TBA
TBA
Professor Granville sets Hiro up with Karmi, a student studying biology. Karmi despises Hiro for replacing her as the youngest student to join San Fransokyo Tech, yet ironically, she has a crush on Hiro's alter ego which she somehow cannot seem to recognize. Meanwhile, the Big Hero 6 take on Barb and Juniper, known collectively as the electricity and pop music powered High Voltage. In order to help, Fred has to visit his arch-nemesis, Richardson Mole who has in his possession issue 188 of Captain Fancy. In the end, Fred's mission turned out to be in regards to Hiro's identity not being noticed and the team take out High Voltage easily. Hiro realizes that Granville set him up with Karmi to help her become more social, she in turn gains some respect for Hiro, but still slightly looks down on him.
TBA
TBA
"Food Fight"
TBA
TBA
When Aunt Cass stumbles into an underground cooking competition, she thrives and becomes addicted to the excitement.
TBA
TBA
"Muirahara Woods"
TBA
TBA
Hiro, Fred, and Baymax follow the Go Go into the mysterious Muirahara Woods where they get lost and everything electronic strangely fails - including Baymax.
TBA
TBA
"Failure Mode"
TBA
TBA
Hiro becomes demoralized when his latest school project fails spectacularly; the team must take on the incompetent villain, Globby.
TBA
TBA
"Aunt Cass Goes Out"
TBA
TBA
After aunt Cass nearly discovers Hiro's secret membership in the Big Hero 6, Hiro tries to marry her to distract her.
TBA
TBA
"The Impatient Patient"
TBA
TBA
Although he is obviously ill, Hiro refuses to listen to his team-mates and Baymax and only watch from afar as they fight the Mad Jacks.
TBA
TBA
"Mr. Sparkle's Loses His Sparkle"
TBA
TBA
Crazy game show host Mr. Sparkles threatens to hurt Hiro's cat Mochi to force Go Go to join a game. But she is very afraid of public appearances.
TBA
TBA
"Tumble Fight"
TBA
TBA
TBA
TBA
"Psycho!"
TBA
TBA
TBA
TBA
TBA
TBA
420B-115[5]
Trivia
The series was originally scheduled to premiere on March 1, 2018, but Bob Schooley announced that the premiere date along with the schedule for March was false.[6] However, it turned out that March 1 was the United Kingdom series premiere.[7]
References