Big Bad, or Big Bad Wolf and real name Aloysius, is a character of the 2015 Disney Junior animated television program, Goldie & Bear. He likes scaring people, stealing, and making as much trouble as he can.
History
Like the traditional Big Bad Wolf, Big Bad enjoys huffing, puffing and blowing things down, as well as antagonizing the Three Little Pigs, Little Red Riding Hood and other individuals. He is also rude at times and has a large appetite, often taking food without asking.
Big Bad, however, is also depicted as having a conscience and at times being a nice guy. When he accidentally blows down his own house, he stays over at Humpty Dumpty's place and is a bad houseguest, but later regrets it and makes good. When his brother Phil, once even naughtier than him, comes for a visit, he discovers that he has gone nice. Goldie and Bear show him how he too can be nice. In another installment, he swipes the magic dancing shoes given to Bear in the hopes of being able to dance himself, only to show vulnerability when he is forced to admit to to his deeds, while also revealing that he was boasting about being a great dancer. 
Big Bad is not really evil and seems more akin to a rather lonely person. In fact, the reason he likes to cause mayhem is possibly just filling up time with rarely any friends to spend time with. 
He is also hungry, with his target being food then really anything else.
Merchandise and Miscellaneous
v - e - d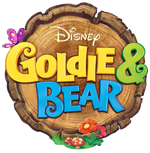 Episodes
Season One: "Fee Fi Fo Shoe" • "Little Gold Riding Hood" • "The Birthday Chair" • "Big Bear" • "Bear's Big Red Shows" • "Goose Sitters" • "Moon Jump" • "The Big Good Wolf" • "The Egg" • "Golden Kickball" • "Too Much Jack & Jill" • "Tiny Tale" • "Abraca Cabbage" • "Furry Godmother" • "Pinocchio-itis" • "The Clubhouse That Jack Built" • "Suddenly Spots" • "A Fish Tale" • "All the King's Men" • "Cheshire Goldie" • "The Troll Tamer" • "The Froggiest Prince of All" • "Bear Who Would Be King" • "When the Gnome is Away" • "Training of the Broom" • "Hickory Dickory Brian" • "Giant Among Us" • "Fetch Skippy Fetch"
Songs
Theme Song • Bein' Nice Is Easy • We Won't Let You Down • Dancing Shoes • We Wanna Be Like You • Playin' With You • The Jacks Club • Big Wide World • We Think • Over The Moon • Magic Dancing Feet • The Perfect Gift • Fishing With Me • Invisible Tango • Prince Charming • Easy to be King • Chores • Training A Broom • Bad Luck Mouse • The Life of a Prince • Tooth Fairy • Home • Things In Common