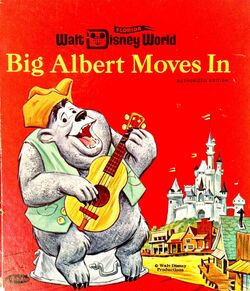 Big Albert Moves In is a Disney storybook featuring Big Al. It was released in 1971 to coincide with the opening of Walt Disney World and tells of how Al came to live and perform with the Country Bears.
When performing all the way through autumn and missing an opportunity to find a place to hibernate, Big Al travels south and performs to earn money for food, but ends up frightening the locals and jumps aboard a truck. Riding the truck, he ends up at Walt Disney World, where nobody bats an eye at him for being a talking bear. He makes his way to Grizzly Hall in Frontierland and meets the other Country Bears, who offer him a job performing with them and a place to stay.
Ad blocker interference detected!
Wikia is a free-to-use site that makes money from advertising. We have a modified experience for viewers using ad blockers

Wikia is not accessible if you've made further modifications. Remove the custom ad blocker rule(s) and the page will load as expected.