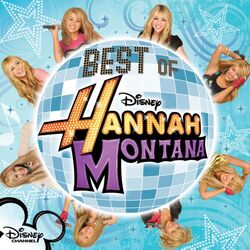 Best of Hannah Montana is a greatest hits album by the fictional character Hannah Montana. The album was released in the United Kingdom on August 8, 2011 and in Spain on August 30, 2011.
Track listing
The Best of Both Worlds
If We Were a Movie
Who Said
Rock Star
Nobody's Perfect
Let's Get Crazy
He Could Be the One
I Wanna Know You
Ice Cream Freeze (Let's Chill)
Supergirl
Ordinary Girl
Que Sera
Wherever I Go
Are You Ready
Total Length Time: 44:03
Commercial Performance
Best of Hannah Montana debuted at 17 in the UK and 24 in Spain. It peaked at #5 in the UK. The album debuted with 100,00 copies sold in the first week worldwide. The album has sold 800,000 copies worldwide to date. it has been certified gold by the British Phonographic Industry.
Gallery
| | |
| --- | --- |
| | This page uses content from the English Wikipedia. The article or pieces of the original article was at Best of Hannah Montana. The list of authors can be seen in the page history. As with Disney Wiki, the text of Wikipedia is available under the GNU Free Documentation License. |
Ad blocker interference detected!
Wikia is a free-to-use site that makes money from advertising. We have a modified experience for viewers using ad blockers

Wikia is not accessible if you've made further modifications. Remove the custom ad blocker rule(s) and the page will load as expected.