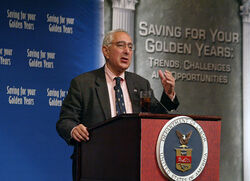 Ben Stein (born November 25, 1944) is an American actor, writer, lawyer, and commentator on political and economic issues. He was a speechwriter and lawyer for US Presidents Nixon and Ford.
His Disney roles included a cameo appearance on Muppets Tonight in episode 211, Mr. Purutu and Mr. Puruturu in The Emperor's New School, Ranger Wormy in Lloyd in Space, Trivia in the Hercules episode "Hercules and the Pool Party", a rabbi in Miami Rhapsody and a waiter in the 101 Dalmatians: The Series episode "Two Faces of Anita".
Gallery
Ad blocker interference detected!
Wikia is a free-to-use site that makes money from advertising. We have a modified experience for viewers using ad blockers

Wikia is not accessible if you've made further modifications. Remove the custom ad blocker rule(s) and the page will load as expected.