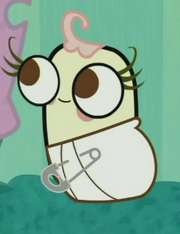 Bella Clarissa Pesky
 (
Tara Strong
) is the youngest of the Pesky siblings and is still in the stage of a maggot. Like
Maggie
, she has pink hair, she can only say "Gah" and "Goo". She can juggle, dance breakdance and ballet. Bella doesn't have a big part in any episodes, except in "Sister Act". In all the others, she's often just sitting at the dining table. Although she doesn't have any arms, she has her own fork and glass.
References
↑ The Buzz on Maggie episode: "Sister Act"
Ad blocker interference detected!
Wikia is a free-to-use site that makes money from advertising. We have a modified experience for viewers using ad blockers

Wikia is not accessible if you've made further modifications. Remove the custom ad blocker rule(s) and the page will load as expected.