Beeza
is a character in
Wander Over Yonder
.
Background
Beeza is the leader of a serene, peaceful species. Her race's planets are constantly destroyed by a gigantic dog named Buster, forcing them to constantly evacuate. She is used to this by now and takes the destruction as if it's no big deal. She is very easy-going, even in the face of death. She is voiced by Tara Strong.
Apperances
Trivia
Her voice sounds like Twilight Sparkle from My Little Pony Friendship is Magic.
v - e - d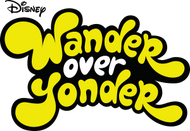 Organizations/Groups
Lord Hater's Army • Insurgent Generals • Wander and Sylvia • Bounty Hunters • Lord Dominator's Army • Galactic Villain Leaderboard
Locations
Lord Hater's Spaceship • Binglebopolopolis • Doomstone • Baaaaa-halla • Phunulon • Ballzeria • Buster • Doom Arena • Planet Ziziks • Flendar • Lord Dominatior's Spaceship • Arachnomorph Homeworld
Ad blocker interference detected!
Wikia is a free-to-use site that makes money from advertising. We have a modified experience for viewers using ad blockers

Wikia is not accessible if you've made further modifications. Remove the custom ad blocker rule(s) and the page will load as expected.