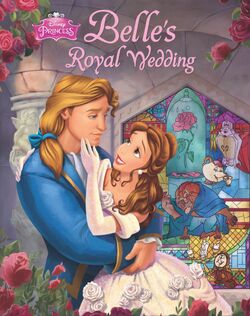 Beauty and the Beast: Belle's Royal Wedding
, called
A Special Gift
in the anthology book
Disney Princess: Forever After
, is a short story for the
Beauty and the Beast
franchise. Set shortly after the events of the film, the plot involves
Belle
and the Prince (
the Beast
in his human form) preparing for their upcoming nuptials. Belle is fitted for her wedding dress and the Prince returns to Belle's village to get her a gift for the wedding.
Belle wants to show the Prince how appreciated and loved he is by the people of his kingdom. The great day arrives, the prince and Belle recite to each other their favorite passages of a book as vows. Lumière surprises everyone by inviting the entire village to the royal wedding!
The anthology book Disney Princess: Forever After included this story alongside that of Rapunzel, Tiana, and Cinderella's royal weddings.
Gallery
Ad blocker interference detected!
Wikia is a free-to-use site that makes money from advertising. We have a modified experience for viewers using ad blockers

Wikia is not accessible if you've made further modifications. Remove the custom ad blocker rule(s) and the page will load as expected.