Jack Bear is the male protagonist of the 2015 Disney Junior animated series, Goldie & Bear. He is best friends with Goldie's best friend, he met Goldie after she entered his home without permission and destroyed his favorite chair by accident. He lives at home with his mother and father bear. He and Goldie go on adventures around Fairy Tale Forest. Bear is very neat and tidy. He also can be stubborn. Bear tends to use magical "solutions" when he could be better with non-magical ones, such as using the Fairy Godmother's wand to give himself wings, using magic shoes to help himself dance, and turning Frog into Prince Charming for Goldie's party.
Merchandise and Miscellaneous
v - e - d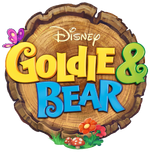 Episodes
Season One: "Fee Fi Fo Shoe" • "Little Gold Riding Hood" • "The Birthday Chair" • "Big Bear" • "Bear's Big Red Shows" • "Goose Sitters" • "Moon Jump" • "The Big Good Wolf" • "The Egg" • "Golden Kickball" • "Too Much Jack & Jill" • "Tiny Tale" • "Abraca Cabbage" • "Furry Godmother" • "Pinocchio-itis" • "The Clubhouse That Jack Built" • "Suddenly Spots" • "A Fish Tale" • "All the King's Men" • "Cheshire Goldie" • "The Troll Tamer" • "The Froggiest Prince of All" • "Bear Who Would Be King" • "When the Gnome is Away" • "Training of the Broom" • "Hickory Dickory Brian" • "Giant Among Us" • "Fetch Skippy Fetch"
Songs
Theme Song • Bein' Nice Is Easy • We Won't Let You Down • Dancing Shoes • We Wanna Be Like You • Playin' With You • The Jacks Club • Big Wide World • We Think • Over The Moon • Magic Dancing Feet • The Perfect Gift • Fishing With Me • Invisible Tango • Prince Charming • Easy to be King • Chores • Training A Broom • Bad Luck Mouse • The Life of a Prince • Tooth Fairy • Home • Things In Common