Ad blocker interference detected!
Wikia is a free-to-use site that makes money from advertising. We have a modified experience for viewers using ad blockers

Wikia is not accessible if you've made further modifications. Remove the custom ad blocker rule(s) and the page will load as expected.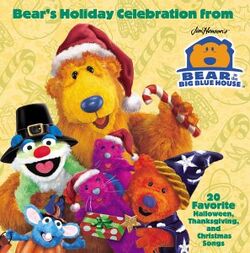 Bear's Holiday Celebration is a 2002 Bear in the Big Blue House album that collects songs from the episodes "A Berry Bear Christmas", "Halloween Bear", "Bats are People Too", "The Best Thanksgiving Ever", "A Winter's Nap", "Afraid Not" and "And To All a Good Night".
Track listing
Berry Bear Christmas
Peter Lurye
A Holiday for Everyone
Brian Woodbury
That's All I Want for Christmas
David Yazbek
Legend of the Winter Berry
Brian Woodbury
What If (There Was No Big Blue House)
Peter Lurye
Woodland Valley Carols
Trad., arranged by Peter Lurye and Steve Charney
Just Listen
Mitchell Kriegman and Peter Lurye
It's Kwanzaa Time
Jon Ludwig, Peter Lurye and Tara Mooney
Best Present Ever
Peter Lurye
Winter Berry / Holiday Reprise
Brian Woodbury and Peter Lurye
In the Middle of Winter
David Yazbek
What Are You Gonna Be for Halloween?
Brian Woodbury and Peter Lurye
Trick or Treat (Part 1)
Peter Lurye
Bat Dance
Robert Cole and Deena Cole
Trick or Treat (Part 2)
Peter Lurye
Nothing to Be Afraid Of
Brian Woodbury
Trick or Treat (Finale)
Peter Lurye
So Much to Be Thankful For
Brian Woodbury and Peter Lurye
Thanksgiving with My Friends
Peter Lurye
Goodbye Song (Full Cast Version)
Peter Lurye