"Be My Ghost" is the tenth episode of the second season of Penn Zero: Part-Time Hero. It premiered on July 18, 2017.
Synopsis
Penn and his team find themselves protecting Sonny Sonnerstein, the ghost of a 1940's comedian, from a pair of ghost hunters.
Trivia
This is second time the Odyssey was not shown in this episode. The first was Number One, Number Two.
This episode is reveals that Larry loves jokes.
This is third time Larry is crying. The first was It's a Colorful Life and the second was Rip-Penn.
Boone screams four times in this episode.
Sonny Sonnerstein's voice actor is Jeff Ross as guest stars. 
Rippen and Principal Larry as ghost hunters are reference to Ghostbusters.
when Penn as a ghost saying "Here's Penny!" is a references to The Shining.
Gallery
v - e - d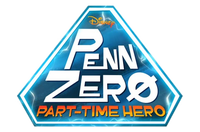 Locations
Middleburg • Middleburg Central High • The Odyssey • Fish Stick on a Stick • North Pole • Knight World • Superhero World • Arabian World • Plush Toy World • Clown World • Dinosaur Cowboy World • Cereal World • Old English World • Giant Monster World • Zombie World • Space World • Ocean World • Color World • Musical Fairy Tale World • Caveman Spy World • Future Barbarian World • Ultrahyperball World • Demon World • Alien World • Galaxy World • Temple World • Dragon World • Gothic Mystery World • Plant World • Animal Barbarian World • Toy World • Outer Space Court World • Robot World • Pirate World • Fairymania World • Steampunk World • Ball World • Ghost World • Rock, Paper, Scissor World • Beast World • Anime World • Sitcom World • Nothingness • Most Dangerous World Imaginable • Least Dangerous World Imaginable
Objects
Multi-Universe Hologram Uplink • Multi-Universe Transprojector • Pigoilet • The QPC Unit • Vortex Tops • Specs