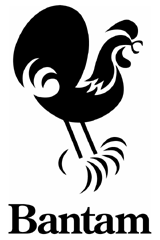 Bantam Books
is an American publishing house owned entirely by parent company
Random House
, the German media corporation subsidiary of Bertelsmann, it is an imprint of the Random House Publishing Group, founded in
1945
by Walter B. Pitkin, Jr., Sidney B. Kramer, and Ian and Betty Ballantine.
Although not owned by Disney, Bantam published a number of Disney storybooks in the Walt Disney Fun-to-Learn Library and Walt Disney Fun-to-Read Library series in 1986. In addition, a number of Choose Your Own Adventure books involve the worlds of the many different Disney films.
Ad blocker interference detected!
Wikia is a free-to-use site that makes money from advertising. We have a modified experience for viewers using ad blockers

Wikia is not accessible if you've made further modifications. Remove the custom ad blocker rule(s) and the page will load as expected.