Balthazar Cavendish and Vinnie Dakota are two recurring characters who appear in the Disney XD animated series, Milo Murphy's Law. They are known to be pistachio protectors from the future. A semi-recurring gag involves Milo attempting to purchase pistachios from them and his bad luck causing them to lose their pistachios. They are known to argue and be disagreeable with each other.
After their plans to preserve pistachios get ruined every time they encounter Milo, Cavendish comes to suspect that he is an enemy agent who has been sent to foil their mission. However, in "Missing Milo", after Cavendish accuses Milo of thwarting them, Milo explains to them how Murphy's Law works and why things go wrong around him.
It is revealed in the special, "Missing Milo", Cavendish and Dakota are the inspiration for the fictional characters Doctor Zone and Time Ape.
Trivia
Starting from "Perchance to Sleepwalk", Balthazar and Vinnie have been relieved of their pistachio duties and demoted to cleaning Renaissance-era toilets.
Gallery
v - e - d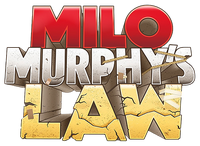 Locations
Swamp City • Jefferson County Middle School • Lard World