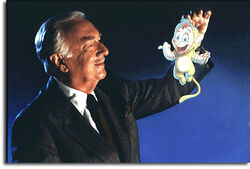 Back to Never Land was a film that was shown inside The Magic of Disney Animation at Disney's Hollywood Studios and inside Disney Animation Building at Disney California Adventure.
Summary
Hosted by the late Robin Williams and Walter Cronkite, the film takes the audience through the animation process in the form of an adventure to Neverland, where Robin takes on the role of one of the Lost Boys and has a bad run in with Captain Hook. Fortunately, he meets Tinker Bell before being sent to walk the plank and they plan to use Tick-Tock the Crocodile against Hook by hitting him with some Pixie Dust. However, after defeating Hook and being brought back into the real world, he immediately goes back into the animated world when Peter Pan invites him to join him for another adventure.
Cast
Gallery
Ad blocker interference detected!
Wikia is a free-to-use site that makes money from advertising. We have a modified experience for viewers using ad blockers

Wikia is not accessible if you've made further modifications. Remove the custom ad blocker rule(s) and the page will load as expected.