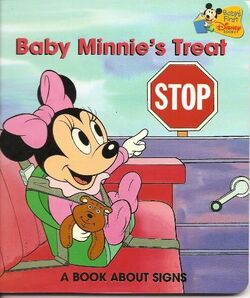 Baby Minnie's Treat is a 1987 Disney Babies book about signs featuring Baby Minnie Mouse, who learns about signs and how they direct us to where we need to go. Also signs are helpful for safety sake too. Children learn about stop signs, the in door and the out door, signs advertising ice cream shops and other specialties, traffic signs, etc. Cute colorful board book resists chewing and tearing of pages as it is made from wipe clean board.
Ad blocker interference detected!
Wikia is a free-to-use site that makes money from advertising. We have a modified experience for viewers using ad blockers

Wikia is not accessible if you've made further modifications. Remove the custom ad blocker rule(s) and the page will load as expected.