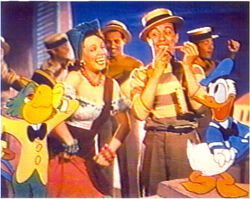 Aurora Miranda (April 20, 1915 - December 22, 2005) was a Brazilian entertainer.
She appeared in several films, including The Three Caballeros, where she played Yaya and danced with Donald Duck and José Carioca, singing the song, "Os Quindins de Yayá".
She also appeared as herself in the 1981 documentary Once Upon a Mouse.
External links
Ad blocker interference detected!
Wikia is a free-to-use site that makes money from advertising. We have a modified experience for viewers using ad blockers

Wikia is not accessible if you've made further modifications. Remove the custom ad blocker rule(s) and the page will load as expected.