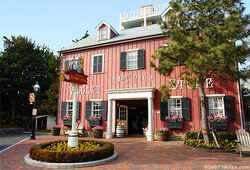 Aunt Peg's Village Store is the main shop in the Old Cape Cod section of American Waterfront.
The store has Disney character items, and there is a nice selection of non-Disney themed merchandise for sale. Aunt Peg's primarily sells packaged candies and cookies, but there are a variety of other items here, including everything from kitchen utensils to sailing ship models.
Description
This red barnhouse-style building owned by Aunt Peg is the only general store in the village. The shop is as homey and warm as Aunt Peg herself and you'll find Duffy plush toys and other merchandise. After shopping for a bit, take a look at the vegetable garden in the backyard.
Gallery
External links