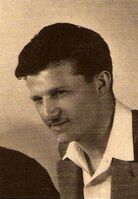 Art Babbitt
, full name
Arthur Harold Babitsky
, (
October 8
,
1907
-
March 4
,
1992
) was an animator at the Disney Studio. He created and established the character of
Goofy
in his
Analysis of the Goof
, in which he explained Goofy's personality, appearance, movements and mannerisms.
Fired in 1941 for attempting to unionize the animators, Babbitt was one of the main instigators of the Disney Animators' Strike. He married three times. His first marriage, to Marjorie Belcher (the live-action reference for Snow White, who would later become Marge Champion), lasted from 1937 to 1940. His second marriage was to Annemarie Dinah Gottlieb, a Holocaust survivor, and lasted from 1949 to 1963. His third marriage, to Barbara Perry in 1967, lasted from 1967 until his death in 1992. He received over 100 awards for his achievements in animation.
Characters Animated