Ad blocker interference detected!
Wikia is a free-to-use site that makes money from advertising. We have a modified experience for viewers using ad blockers

Wikia is not accessible if you've made further modifications. Remove the custom ad blocker rule(s) and the page will load as expected.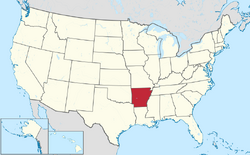 Arkansas
is a state located in the Southern region of the
United States
. Its name is an Algonquian name of the Quapaw Indians. The state's diverse geography ranges from the mountainous regions of the Ozarks and the Ouachita Mountains, which make up the U.S. Interior Highlands, to the eastern lowlands along the Mississippi River and the Arkansas Delta. Arkansas is the 29th most extensive and the 32nd most populous of the 50 United States. The capital and most populous city is Little Rock, located in the central portion of the state. The Territory of Arkansas was admitted to the union as the 25th state on June 15, 1836.
Arkansas borders Louisiana to the south, Texas to the southwest, Oklahoma to the west, Missouri to the north, and Tennessee and Mississippi on the east. The United States Census Bureau classifies Arkansas as a southern state, sub categorized among the West South Central States. The Mississippi River forms most of Arkansas's eastern border, except in Clay and Greene counties where the St. Francis River forms the western boundary of the Missouri Bootheel, and in dozens of places where the current channel of the Mississippi has meandered from where it had last been legally specified. The state line along the Mississippi River is indeterminate along much of the eastern border with Mississippi due to these meanders
Characters from Arkansas
Actors and Crew born in Arkansas
Gallery