Ariel's Story Studio
Comments

0
19,090pages on
this wiki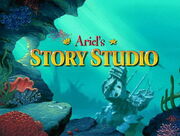 Ariel's Story Studio is a PC game made in 1997 that adapts the story of The Little Mermaid into an interactive storybook.
Gallery
Errors
In this game, Vanessa is depicted with turquiose eye, when in the movie her eyes are violet.
During the final battle with Ursula. Ursula is seen with her necklace still intact, although during the wedding scene it had clearly been destroyed.
Trivia
If one were to click on Eric enough times during the Kiss the Girl segment, he will begin to guess Ariel's name. Many of the names he chooses are references to many Disney films. He chooses: Alice, Belle, Esmeralda, and Jasmine .
Because this is a children's game, the scene where Ursula is scewered could not end in her death. Instead, it ends with her being transformed into a polyp herself.
Most of the voice actors reprised their roles in the game, with the exception of Flounder, being voiced by Courtland Mead instead of any of his previous actors from the film or television series.