Arachnophobia is a video game based on the film Arachnophobia. It was developed by BlueSky Software and Disney for the MS-DOS, Commodore 64, Amstrad CPC, and Amiga platforms.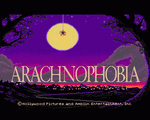 The player assumes the role of Delbert McClintock, a bug-exterminator and character from the original film, fighting to save the USA from a horde of invading killer spiders. Delbert must go through houses in eight towns, killing spiders in each one. If Delbert succeeds in finishing all eight towns, the United Nations declares that the spider must become extinct, and commissions McClintock to work with Dr. Atherton to go to South America, home of the spiders.
External links
| | |
| --- | --- |
| | This page uses content from the English Wikipedia. The article or pieces of the original article was at Arachnophobia (video game). The list of authors can be seen in the page history. As with Disney Wiki, the text of Wikipedia is available under the GNU Free Documentation License. |
Ad blocker interference detected!
Wikia is a free-to-use site that makes money from advertising. We have a modified experience for viewers using ad blockers

Wikia is not accessible if you've made further modifications. Remove the custom ad blocker rule(s) and the page will load as expected.