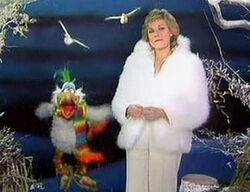 Anne Murray (born June 20, 1945) is a multiple award-winning Canadian singer in pop, country and adult contemporary music whose albums have sold over 54 million copies.
Her Disney roles included her guest appearances on The Muppet Show in episode 415 and the Wonderful World of Disney episode "Mickey's 50". Her renditions of "Daydream Believer", "Hey Baby!" and "Snowbird" were featured as DTV music videos.
Gallery
Ad blocker interference detected!
Wikia is a free-to-use site that makes money from advertising. We have a modified experience for viewers using ad blockers

Wikia is not accessible if you've made further modifications. Remove the custom ad blocker rule(s) and the page will load as expected.