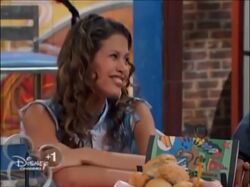 Andrea
was
Eddie Thomas's
girlfriend.
Season 2
Andrea broke up with Eddie because he was not serious enough. Because Andrea's father was Raven's ride to the ski trip, she called her to The Chill Grill where she and Eddie made up, as long as Eddie would stop clowning. Andrea came by the Chill Grill for her date to see Eddie dress up as Foodface the Clown. Andrea broke up with him again.
Ad blocker interference detected!
Wikia is a free-to-use site that makes money from advertising. We have a modified experience for viewers using ad blockers

Wikia is not accessible if you've made further modifications. Remove the custom ad blocker rule(s) and the page will load as expected.