Ad blocker interference detected!
Wikia is a free-to-use site that makes money from advertising. We have a modified experience for viewers using ad blockers

Wikia is not accessible if you've made further modifications. Remove the custom ad blocker rule(s) and the page will load as expected.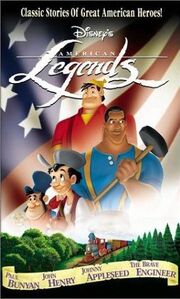 American Legends
is a home video that was released February 12, 2002. The compilation is narrated by
James Earl Jones
and which features the following Walt Disney feature animated shorts:
John Henry
Retells the story of John Henry, who raced against a train.
Director: Mark Henn

Producer: Steven Keller

Writer: Broose Johnson, Tim Hodge, Shirley Pierce

Music: Stephen James Taylor

Art Director: Robert Stanton
Paul Bunyan
Retells the story of Paul Bunyan, a folklore lumberjack that was a giant.
Director: Les Clark

Producer: Walt Disney

Writer: Lance Nolley, Ted Berman

Music: George Bruns
Johnny Appleseed
Retells the story of Johnny Appleseed, a nurseryman who introduced apple trees to Ohio and Indiana.
Director: Wilfred Jackson

Producer: Walt Disney

Writer: Winston Hibler, Erdman Penner

Music: Paul J. Smith
The Brave Engineer
Retells the exploits of railroad engineer Casey Jones.
Director: Jack Kinney

Producer: Walt Disney

Writer: Dick Kinney, Dick Shaw

Music: Ken Darby