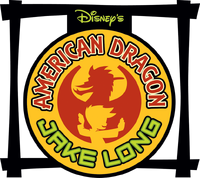 The following is a list of episodes of American Dragon: Jake Long. All 52 episodes originally premiered on the Disney Channel. The show firsted aired on January 21, 2005 and ended on September 30, 2007.
Many websites including Save Disney Shows and Save American Dragon: Jake Long have been petitioning Walt Disney Studios to continue production of the show and create a third season. As of 2014, it is unknown if Disney XD will continue production.
Season One (2005-2006)
#
Title
Airdate
Production Code
Summaries
01
"Old School Training"
January 21, 2005
101
Jake gets fed up when Grandpa puts him through a series of disgusting and seemingly pointless training exercises, leaving his grandpa at the hands of the Huntsman and Huntsgirl.
02
"Dragon Breath"
January 22, 2005
103
When Jake ends up with a serious case of bad dragon breath, Fu Dog must set him up on a date for the school dance. But his date goes sour when Jake finds out his hot date, Jasmine, is hiding a dark secret.
03
"The Talented Mr. Long"
January 28, 2005
107
When an ancient magical chalice containing a powerful evil is being used as a trophy at his school's talent show, Jake must compete against Spud the Magnificent and risk losing their friendship.
04
"The Legend of Dragon Tooth"
February 4, 2005
105
Jake, Trixie, and Spud try to juggle the responsibility of watching Jake's little sister Haley with their plans to attend the 3rd Annual Hip-Hop Video Awards. Meanwhile, a treacherous dental villain tries to abduct Haley for her loose Dragon Tooth.
05
"Act 4, Scene 15"
February 11, 2005
108
Wanting an excuse to spend time with the girl of his dreams, Jake auditions for the role of Anthony to act opposite Rose's Cleopatra in the school play. Meanwhile, he must also protect a mystical Egyptian scarab from falling in the hands of the Huntsclan.
06
"Adventures in Troll Sitting"
February 18, 2005
104
Jake must hide a giant, hairy troll from his parents and visiting aunt.
"Fu Dog Takes a Walk"
Fu Dog's trip to a Yankee game ends up with him trying to outrun a maniacal dog-catcher.
07
"Professor Rotwood's Thesis"
February 25, 2005
109
In an attempt to raise enough money to replace the vase they broke, Spud and Trixie unknowingly give Jake's dragon form over to Professor Rotwood.
08
"The Egg"
March 25, 2005
106
A stolen Griffin egg leads Jake on a frenzied romp through New York City.
"The Heist"
Jake, Grandpa, Trixie, Spud, and Fu Dog must comically stumble through an elaborate heist to retrieve a Leprechaun's stolen gold from a millionaire dark wizard named Eli Pandarus.
09
"Dragon Summit"
April 1, 2005
111
Jake attends the World Dragon Summit and becomes engaged in a hilarious battle of pranks with Fred Nerk, the Australian Dragon - during which he learns about his grandpa's history with the infamous Dark Dragon.
10
"Body Guard Duty"
April 29, 2005
110
Jake is assigned as a bodyguard to the Oracle Twins, Kara and Sara. When he brings them to school, they go from causing mischief to helping him cheat on his mythology test.
11
"Shapeshifter"
May 13, 2005
102
When Jake gets shapeshifting abilities for a dragon mission, he misuses them to get out of a parent-teacher conference and impress his peers.
12
"The Ski Trip"
May 27, 2005
115
When Jake, Trixie, and Spud attend a school sponsored ski trip, Jake embarks on an investigation to find out the true identity of the Huntsgirl, while also trying to get some alone time with Rose.
13
"The Long Weekend"
July 1, 2005
112
Father-son bonding hijinx ensues when Jonathan takes Jake, Trixie and Spud on a camping trip in the forests of New Jersey. Meanwhile, the menacing "Jersey Devil" terrorizes a tribe of woodland sprites.
14
"Eye of the Beholder"
July 30, 2005
114
Fu Dog is forced to go undercover as a contestant in the "Miss Magical World" beauty pageant in order to discover the secret evil plot of the wealthy wizard, Eli Pandarus. The pageant host is voiced by Monty Hall.
15
"Jake Takes the Cake"
August 26, 2005
116
Jake accidentally lets a gremlin loose at his mother's big catering gig for the "Wedding of the Century" between two famous soap-opera stars.
16
"Hong Kong Nights"
September 8, 2005
121
Jake discovers that his ancient, out-of-touch grandfather was once a swinging, styling super-agent in 1970s Hong Kong, China, who had completely changed after defeating the Dark Dragon. Jake comes into conflict with the Dark Dragon again and Councilor Chang's duplicity is revealed.
17
"Halloween Bash"
October 22, 2005
118
While Grandpa takes Haley trick or treating, Jake seizes the opportunity to throw the wildest Halloween party ever mixing humans and magical creatures.
18
"Fu and Tell"
November 3, 2005
113
Fu Dog must endure the extreme indignity of Haley's elementary school class "Show And Tell", while also confronting an old nemesis.
"Flight of the Unicorn"
Jake, Trixie, and Spud must transport a wild mystical female unicorn from Coney Island to Central Park during holiday rush hour whilst escaping from the freakshow carnival folk.
19
"Keeping Shop"
December 15, 2005
119
When Grandpa and Jake leave New York City, Trixie and Spud are forced to don a dragon costume and comically stumble their way through American Dragon duties in order to get rid of the gang of Biker Trolls.
20
"Ring Around the Dragon"
January 12, 2006
117
Hijinks and hilarity abound as Jake goes undercover as a professional wrestler "Dragonfire" in the King Extreme Wrestling League ("K.E.W.L.") in order to rescue a runaway giant.
21
"The Hunted"
January 29, 2006
120
Jake is chased into a trap along with a group of comically inept magical misfits and has a confrontation with Huntsgirl that will determine whether or not Rose would give up her Huntsclan lifestyle if she knew the truth behind his identity.
Season Two (2006-2007)
| # | Title | Airdate | Production Code | Summaries |
| --- | --- | --- | --- | --- |
| 22 | "Bring It On" | June 10, 2006 | 203 | Jake learns that the three evil Gorgon sisters, Fury, Euryale, and Medusa have mysteriously returned to life and are magically entrancing the school cheerleaders to do their dirty work. Now, Trixie must infiltrate the tight-knit group of cheerleaders in order to stop them from taking over the world. |
| 23 | "Half Baked" | June 24, 2006 | 201 | Jake is determined to find Rose and asks Fu Dog to help him with a magical potion to open a portal to locate her, but when the magical ingredients accidentally get swapped with the cupcakes they're baking for the school carnival, Jake has to decide between finding Rose or saving the carnival-goers. |
| 24 | "The Academy" | July 1, 2006 | 204 | Spud joins Jake on a mission where they go undercover as students at the Huntsclan Academy. At the Academy they find Rose, who helps them with their mission and confesses to Jake that it's too dangerous for her to leave the Huntsclan. |
| 25 | "The Doppelganger Gang" | July 8, 2006 | 209 | When Jake is overwhelmed by his hectic dragon responsibilities, he decides to use his dragon powers and abilities to create doppelganger copies of himself to help ease the load. But his plan quickly backfires when one of the clones turns against him. |
| 26 | "Something Fishy This Way Comes" | July 15, 2006 | 206 | Jake's life is thrown into chaos when Grandpa starts dating his principal, Ms. Decerto. Meanwhile, Jake learns that a ferocious, shape-shifting beast is preying on magical creatures, and suspects that his school principal is the creature. |
| 27 | "Breakout" | July 29, 2006 | 208 | Jake becomes obsessed with his appearance when he starts going through his first ten-year dragon molting cycle, causing him to adopt a temporarily grotesque appearance. He must overcome his fear of showing his face to Rose in order to help her thwart the newly-revealed plot of the Huntsman. |
| 28 | "Family Business" | August 5, 2006 | 205 | Jake is stunned to discover that Haley has begun dragon training. When she begins outperforming him at various tasks, a jealous Jake secretly makes her dragon abilities go out of control. |
| 29 | "Hero of the Hourglass" | August 12, 2006 | 202 | After learning that his mother had once upon a time almost given his dad a letter that explained the dragon side of their family, Jake uses a time travel device to travel back in time and make sure that letter was read. After Jonathan reacts badly and breaks up with Susan, Jake has to fix things so he and Haley don't disappear forever. |
| 30 | "Dreamscape" | August 19, 2006 | 210 | While using his Dream Charm to have secret dates with Rose, Jake gets the idea to use his charm to access Rotwood's mind in order to obtain the answer key for a future test. But when he inadvertently releases a dangerous Chimera creature into the Dream Realm, Jake, Rose, Spud, and Trixie must work quickly in order to stop it. |
| 31 | "A Befuddled Mind" | September 9, 2006 | 214 | Spud gets an excellent score on a government issued standardized test and is recruited to a top-secret school called "The Genius Institute". Meanwhile, Jake and Trixie must try and recover an ancient magical artifact from the dark wizard Eli Pandarus. |
| 32 | "Fool's Gold" | September 16, 2006 | 211 | Jake gets sucked into the bling-bling lifestyle when he starts working for a semi-shady leprechaun clan. But one sinister deal with the Huntsclan may end up bringing an end to all magical creatures. |
| 33 | "Feeding Frenzy" | September 23, 2006 | 213 | When the Longs attend a Florida family reunion, Jake must deal with both his annoying cousin Greggy and a crime syndicate of shark terrorists plotting to flood half of the continent. |
| 34 | "Haley Gone Wild" | September 30, 2006 | 216 | Tired of her goody-two-shoes attitude, Jake teaches Haley to be "bad". Unfortunately for him, she gets addicted and starts to go too far. |
| 35 | "Supernatural Tuesday" | October 28, 2006 | 221 | Jake's bid for student body president against a new student takes an unexpected turn when he uses a magical helmet to read the minds of his constituents. |
| 36 | "The Rotwood Files" | November 18, 2006 | 215 | Jake is tired of Principal Rotwood always giving him a hard time, and inadvertently gets Rotwood fired. He's happy at first, but when he ends up with a principal who is even worse, he strikes a partnership with Rotwood to get rid of the new guy. |
| 37 | "Hairy Christmas" | December 16, 2006 | 207 | Jake, feeling humiliated by his family's Christmas traditions, leaves them behind to hang out with his friends and ends up chasing down a baby Sasquatch that's lost its' mother. |
| 38 | "Switcheroo" | January 6, 2007 | 217 | Jake and Haley are forced to re-examine their sibling rivalry when an enchanted mirror switches their bodies for a day and each must comically experience life as the other. |
| 39 | "The Love Cruise" | February 3, 2007 | 212 | When Cupid goes on vacation, he leaves his magical bow and arrows with Jake, who brings them onto his school's "Love Cruise" to use on Rose, who he mistakenly thinks doesn't love him anymore. |
| 40 | "Year of the Jake" | February 18, 2007 | 224 | Out of touch with his Chinese heritage and unwilling to participate in the festivities, Jake volunteers to watch his grandpa's shop while he's off doing his own holiday traditions. Jake's ignorance of Chinese culture soon shows its dangers when he inadvertently curses the magical shop with bad luck, causing a series of escalating calamities, including the releasing of three evil demons that wreak havoc on the city. |
| 41 | "Homecoming" | March 10, 2007 | 218 | Jake and Rose are nominated for Homecoming King and Queen for their school's upcoming homecoming dance, and Jake believes it to be the perfect opportunity to continue pursuing his relationship with Rose. However, the Huntsman discovers Rose's treachery and forces her to betray Jake and help the Huntsclan with one final mission. |
| 42 | "Young at Heart" | March 24, 2007 | 220 | Jake, Spud and Trixie fight a demon that has caused them to lose their youth. While Jake only has matured into a twenty-one-year-old, Spud and Trixie become elderly sixty-year-olds. While trying to figure out how to revert them back to normal, Jake gets caught up in the perks of being an adult, only to realize the life of an adult may not be as glamorous as he first thought. |
| 43 | "Siren Says" | April 7, 2007 | 222 | Hoping to get back into the realm of dating, Jake enters a bachelor auction at his school. When two girls compete in bids for him, Jake rigs the bid so Danika can win. Trixie criticizes him for only caring about looks while they deal with the possibility that Danika is a siren that's hypnotizing Jake into doing whatever she asks. |
| 44 | "Shaggy Frog" | April 28, 2007 | 223 | Jealous of Jake's magical powers and hero status, Spud feels incompetent in his own abilities. But when a magical frog bites him during an attempt to prove himself as a hero, he begins to develop magical froggy-like abilities that he uses to gain popularity. |
| 45 | "Nobody's Fu" | May 12, 2007 | 225 | Jake's loyalty in Fu Dog wanes as he constantly fails to help him out in their partnership. When Fu allows his animal guardian license to expire once again, Jake is assigned a temporary animal guardian: a cool new "hip-hop" helper monkey, "Bananas B.", to replace him, who he quickly takes a liking to and he ignores Fu, causing him to lose his chance to renew his license. But the true loyalty of the animal helper is put to the test when Councilor Chang escapes from her magical prison to exact revenge on Jake and Lao Shi. |
| 46 | "Magic Enemy #1" | June 2, 2007 | 228 | With Rotwood now knowing Jake is a dragon, he sets up a campaign of humiliating him in school in order to get him to slip up and expose himself. Tired of Rotwood's persistence, Jake goes on an online blog where he thinks that he will not be noticed, and gets misinterpreted by the magical community, thinking that a bounty is now out on Rotwood's head. Now, Jake must protect Rotwood from various magical bounty hunters out for the reward. |
| 47 | "A Ghost Story" | June 16, 2007 | 219 | When Jake, Trixie and Spud become junior counselors at "Camp Mugwomp", Jake relives old camp game rivalries with Brad Morton. Meanwhile, a vengeful group of ghosts plan to take revenge on the living occupants of the camp by kidnapping the winners of an upcoming camp race. |
| 48 | "Bite Father, Bite Son" | June 17, 2007 | 227 | Jonathan drags Jake to his office for Take Your Child to Work Day. Jake begins the day convinced that his dad's a wimp and hurts his feelings when Johnathon overhears Jake making fun of him. Jake has to contend with a group of dangerous vampires (strigoi) who have drained the blood of many dragons and believe that Jonathan is the American Dragon. |
| 49 | "Game On" | July 1, 2007 | 226 | Frustrated by life's unexpected twists and turns, Jake meets three witches and uses a magical device which lets Jake control his life like a videogame full of fast forwards, rewinds, and power-ups. |
| 50 | "Furious Jealousy" | July 7, 2007 | 229 | When Stacey and Nigel become an item, a jealous Spud decides to do anything to win her affection including striking an unholy deal with Fury, the sinister gorgon. Meanwhile, with seemingly no crime for weeks on end, Jake becomes immensely overweight by eating massive amounts of junk food, much to Trixie's dismay. |
| 51 | "Being Human" | August 4, 2007 | 230 | Jake is stressed when he realizes how his duties as the American Dragon have kept him from having a normal school life. He intentionally gets suspended from his duties for a week to get the most out of his middle school graduation, and let Haley become the American Dragon. But can she handle this great new responsibility, which includes dealing with a vengeful Chang? |
| 52 | "The Hong Kong Longs" | September 1, 2007 | 231 | Jake and his family take a trip to Hong Kong for summer vacation when Grandpa reveals to Jake that the real reason for the trip is the Dragon Council's Thousand Year Toast at a temple that appears once every thousand years at the top of a nearby mountain. When the Dark Dragon kidnaps Lao Shi, Jake tracks down an old friend and tries to convince her to help him defeat the Dark Dragon once and for all. |
Ad blocker interference detected!
Wikia is a free-to-use site that makes money from advertising. We have a modified experience for viewers using ad blockers

Wikia is not accessible if you've made further modifications. Remove the custom ad blocker rule(s) and the page will load as expected.