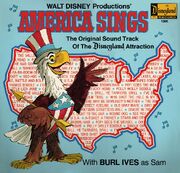 America Sings
was an Audio-Animatronic salute to the great American songbook. It opened on June 29,
1974
in the Carousel Theater (former home of the
Carousel of Progress
) at 
Disneyland's
Tomorrowland
and closed on
April 10
,
1988
since the Bicentennial celebrations were long-over.
The show was hosted by Sam the Eagle (voiced by Burl Ives), who sang the attraction's theme song Yankee Doodle, and Ollie the Owl (voiced by Sam Edwards). The rotating theater took park guests through four acts, each one representing a different era of American music: Going South, Heading West, the Gay Nineties and Modern Times.
Musical selections included:
Closing
When the attraction closed in 1988, most of its audio-animatronic characters were moved to Splash Mountain, while two of the long-necked geese were transformed into the G2 droids in the queue area of Star Tours and the rock and roll stork is now used to train new animatronic programmers.
The building was used as office space until Innoventions opened in 1998.
Voice Cast
Trivia
Incident
On July 8, 1974, nine days after the attraction opened, 18 year old Disneyland cast member Deborah Gail Stone was accidentally crushed to death between the building's rotating wall and a stationary wall. She either fell, stepped backwards or tried to jump from one stage to the other as the rotating wall began to move (it moved every 2 to 4 minutes which was how long each act was). A guest in the adjacent theater heard her screams and notified the ride operators. By the time the guest and ride operators got to Debbie it was too late. She died from her injuries. Deborah Gail Stone was pronounced dead at 11:00 PM. She'd recently graduated from Santa Ana High School. Debbie got a job at Disneyland to earn money for college. Minutes before her death she'd called her parents to ask for their permission to get engaged as she'd fallen in love. Deborah Gail Stone is buried in Fairhaven Memorial Park in Santa Ana, Orange County, California.
Gallery
References