Ad blocker interference detected!
Wikia is a free-to-use site that makes money from advertising. We have a modified experience for viewers using ad blockers

Wikia is not accessible if you've made further modifications. Remove the custom ad blocker rule(s) and the page will load as expected.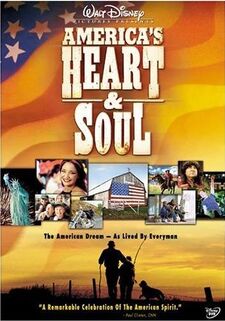 America's Heart and Soul
is a
2004
film produced by Blacklight Films and released by Walt Disney Pictures. It is a documentary and was directed by Louis Schwartzberg. The film was nominated for two MovieGuide Awards, winning one. It was released on
July 12
, 2004, and grossed $314,402.
Plot
America is a vast country--three thousand miles from end to end. But it's not the land that makes America so special--it's the people. Filmmaker Louis Schwartzberg packed-up his camera and hit the road, with a goal of capturing both the unparalleled beauty of the land and the incomparable spirit of the people. He connects with people, capturing their values, dreams, and passion in a journey that reveals the stories--unusual, captivating, inspiring and emotional--that make Americans into something more than a collection of individuals. It's a celebration of a nation told through the voices of its people
Cast
George Woodard as Dairy Farmer, Waterbury, Vermont
Charles Jimmie Sr. as Tlingit Indian Elder, Klukwan, Alaska
The Vasquez Brothers as Salsa Dancers, Los Angeles, California
Frank Pino as Rock Band, Waltham, Massachusetts
David Pino as Rock Band, Waltham, Massachusetts
John 'Yac' Yacobellis as Bike Messenger, New York, New York
Patty Wagstaff as Acrobatic Flyer, St. Augustine, Florida
Paul Stone as Explosive Art, Creede, Colorado
Ed Holt as Wine Grower, Santa Maria, California
Weirton Steelworkers as Themselves, Weirton, West Virginia
Cecil Williams as Himself - Glide Church, San Francisco, California (as Rev. Cecil Williams)
Janice Miriktani as Executive Director, Glide Church, San Francisco, California
David Krakauer as Klezmer Clarinetist, New York, New York
James Andrews as Jazz Musician, New Orleans, Louisiana
Trombone Shorty as Jazz Musician, New Orleans, Louisiana
Production Credits
Directors: Louis Schwartzberg
Producers: Louis Schwartzberg, Brian E. Frankish, Grady Candler, Jake Eberts, Vincent Ueber
Rated: PG (Parental Guidance Suggested)
Studio: Buena Vista Home Entertainment
DVD Release Date: February 1, 2005
Run Time: 84 minute