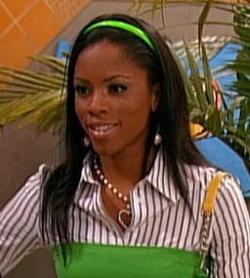 Amber Addison
is a character and antagonist from
Hannah Montana
. She is portrayed by Shanica Knowles.
History
She is a bully at Seaview High who's in Miley, Lilly, and Oliver's grade. She's been a pain for the main characters since the first episode of the first season. She's seen many times trying to humiliate Miley and her friends and doing bad stuff to them. Amber and her best friend, Ashley Dewitt, are fairly one-dimensional characters for the most part (or at least Ashley is). Of the two girls, Amber's the more dominant and intelligent one of the two, and has a much better singing voice than Ashley. Both girls are shown to be huge fans of Hannah Montana, which is ironic since Miley is Hannah Montana.
Amber's biggest and most embarrassing secret is that she used to be the geeky kid with the glasses almost everybody picked on (which Ashley is shown not to know). From that, it can be assumed that Amber's sour disposition probably stems from getting picked on all the time as a kid.