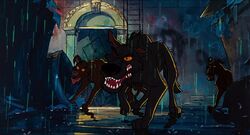 The Alley dogs are minor antagonists in Disney's 1988 animated movie, Oliver & Company.
At the beginning, when Oliver is left all alone and his box home is ruined, Oliver tries to find shelter in an alley, only to find three vicious alley dogs searching for food. When the alley dogs spot Oliver, they begin to chase him so as to eat him. Luckily, Oliver escapes by jumping over a fence while the dogs remain behind the fence. They aren't seen throughout the rest of the movie after this until somewhere in the climax, when Oliver is with his dog friends singing Streets of Gold, another vicious alley dog jumps into the scene and chases Oliver until he is scared off by Dodger and the gang's growling and runs away like a yellow cowardly dog. He isn't seen throughout the rest of the movie after this.
Gallery
Ad blocker interference detected!
Wikia is a free-to-use site that makes money from advertising. We have a modified experience for viewers using ad blockers

Wikia is not accessible if you've made further modifications. Remove the custom ad blocker rule(s) and the page will load as expected.