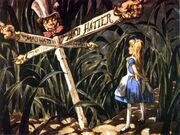 Twelve years prior to the 1951 film, Alice in Wonderland has been planned out since the 1930's, as the first ever animated feature by Disney.
However, despite of Walt Disney's enthusiasm, the film was postponed and cancelled due to restricted budgets that had imposed the studio during World War II, plus the film was not released until the year 1951.
History
The 1939 draft had beautiful artwork and storyboards done by the talented British concept and visual development artist David Hall, a script by Al Perkins, and songs by Frank Churchill. The Leica reel composed for the film even had a voice cast, such as Cliff Edwards (who played Jiminy Cricket from Pinocchio) portraying the Anthropomorphic "Drink Me" Bottle.
Walt Disney ultimately turned the draft down, as the Wonderland's denizens looked far too monstrous for his tastes, and were hard to animate, as they resembled the Teniel illustrations too closely. The tone overall was also incredibly grim and frightening, with most of the Wonderland's inhabitants being outright bloodthirsty towards poor Alice, (such as the Mad Hatter and March Hare are about to dice her into pieces with scissors and a knife, Alice had being attacked by hordes of birds, and had ever being placed on a guillotine near the end).
Ultimately, Walt Disney Animation Studios instead went for a lighter, more modern approach with the final film. However, bits and pieces of this early version have emerged from time to time.
Plot
The film opens with Alice on a riverbank like in the 1951 final version. She eventually sees the White Rabbit and follows him down a hole leading to a massive void of gems, stars, and ferocious bats. She then meets the Anthropomorphic "Drink Me" Bottle (voiced by Cliff Edwards), who offers to give Alice a drink of his magic, growing her and then shrinking her. When she shrinks, she is washed into Wonderland by her own tears. She is rescued by the Mouse, and then whisked off to the island of the Gryphon and the Mock Turtle and participates in the Lobster Quadriddle. The Cheshire Cat then scares them all away, but befriends Alice in her hunt for the White Rabbit.
Songs
"It's Crazy to Be Sane"
"Lobster Quadriddle"