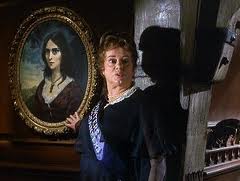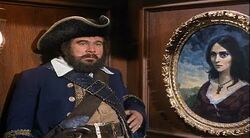 Aldetha Teach was Blackbeard's 10th wife in Disney's 1968 movie, Blackbeard's Ghost. Before she died by burning completely at the stake by Blackbeard, who found out she was actually a witch, she put a curse on him that he will always be on Earth in limbo unless there'll be a spark of human goodness in him. Her tale was also told by Emily Stowecroft to Steve Walker when he came to spend the night at Blackbeard's Inn. She had a bed warmer which Steve purchased at an auction for $200 and when he accidentally sat on it, he found her book of spells in it along with a spell that can bring his eyes and ears to one who is bound in limbo: "Kree, Kruh, Vergo, Gaba, Kalto, Kree", thus, allowing him to see "That's right" Blackbeard's Ghost. Her portrait can be seen in Blackbeard's room of his Inn.
Ad blocker interference detected!
Wikia is a free-to-use site that makes money from advertising. We have a modified experience for viewers using ad blockers

Wikia is not accessible if you've made further modifications. Remove the custom ad blocker rule(s) and the page will load as expected.