Aladdin (TV series)
Comments

15
29,644pages on
this wiki
Aladdin (TV series)
Genre
Action
Adventure
Fantasy
Comedy
Mystery
Romance
Format
Animated Series
Created by
Walt Disney Television
Directed by
Alan Zaslove
Rob LaDuca
Bob Hathcock
Toby Shelton
Tad Stones
Creative director
Starring
Voices of
Composer(s)
Opening theme
Arabian Nights
No. of seasons
No. of episodes
Production
Executive producer(s)
Producer(s)
Running time
22 minutes
Production company(s)
Walt Disney Television Animation
Broadcast
Original channel
Syndication
CBS
Picture format
Audio format
Original run
External links
[Source]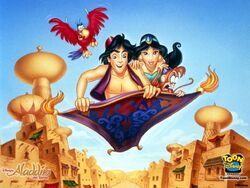 Aladdin
is an animated television series made by
Walt Disney Television
which aired from
1994
to
1995
, based on
the original 1992 feature
. Coming on the heels of the direct-to-video sequel
The Return of Jafar
, the series picked up where that installment left off, with Aladdin still living on the streets of Agrabah, still unwed to beautiful and spunky
Princess Jasmine
. "Al" and Jasmine went together into peril among sorcerers, monsters, thieves, and more. Monkey sidekick Abu and the fast-talking, shape-shifting Genie came along to help, as did sassy, temperamental and complaining parrot Iago, formerly
Jafar
's pet but now a grudgingly good and neutral guy.
Debuting simultaneously on Saturday morning and as part of the syndicated weekday Disney Afternoon, the show set a pattern for several future Disney series. Many of the films' stars provided the voices of their TV counterparts with Dan Castellaneta filling in for Robin Williams in the Genie role, as he did for The Return of Jafar.
The Disney Channel reran the series in the late-1990s until it was replaced by their pre-teen lineup. Toon Disney aired the reruns from 1998 until it was replaced by Jetix programming in 2004.
The show became popular with Arabic speaking viewers when it aired on MBC 3 dubbed in Arabic. Most, if not all of the characters, were voiced by Egyptian actors, and as a result, Egyptian Arabic was used.
There are currently no plans to release the Aladdin TV series on DVD from Walt Disney Home Entertainment. To date, only a few episodes are available on the Disney Princess DVDs.
This show currently airs on:
Main Characters
Villains and Enemies
Supporting Characters 
Episode list
Main article: Aladdin episode list
After this series ended another direct to video movie Aladdin and the King of Thieves, was released to officially end the Aladdin franchise of films and TV series.
See also
Reception
External links
| | |
| --- | --- |
| | This page uses content from the English Wikipedia. The article or pieces of the original article was at Aladdin (TV series). The list of authors can be seen in the page history. As with Disney Wiki, the text of Wikipedia is available under the GNU Free Documentation License. |
Disney Television Animation series