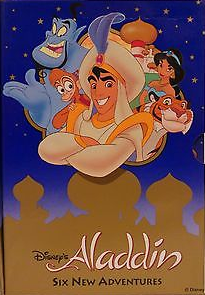 Aladdin: Six New Adventures is a collection of spin-off books of Aladdin. It is a collection of six short stories written by various authors, and published by Grolier Enterprises, Inc. with permission of the Walt Disney Company. It was published by Mega Books and was released only in the United States in 1993.
Books
This is a list of the books in order:
Ad blocker interference detected!
Wikia is a free-to-use site that makes money from advertising. We have a modified experience for viewers using ad blockers

Wikia is not accessible if you've made further modifications. Remove the custom ad blocker rule(s) and the page will load as expected.