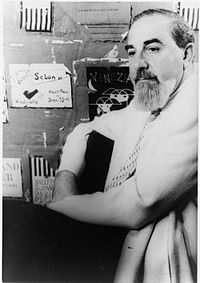 Albert "Al" Hirschfeld (June 21, 1903 - January 20, 2003) was an American caricaturist who was best known for his simple black and white potriats of celebrities and Broadway stars. He helped animate Rhapsody in Blue in Fantasia 2000.
His artwork became inspiration when Eric Goldberg was designing Genie for Aladdin.
Gallery
Ad blocker interference detected!
Wikia is a free-to-use site that makes money from advertising. We have a modified experience for viewers using ad blockers

Wikia is not accessible if you've made further modifications. Remove the custom ad blocker rule(s) and the page will load as expected.